ABOUT THE BOOK
This is my vision of - my tribute to would be better - one of the greatest musicians, guitar players and live performers to have ever lived. A man with many faces, and maybe even more unique and iconic looks. In this book, I brought every image that inspired me down to the essentials by leaving out the details.
I hand picked the paper I found best suitable for this. Printed on 160 gsm paper (uncoated, highwhite, and wood-free) this is a heavier and whiter paper than you see in the average book.
Also, this will be a durable publication, as the inner pages are protected by the full color hardcover, with matte finish.
All in all, with 100 pages, the size (30x30cm/12x12"!), the heavy paper, the hard cover and of course all the love and passionate work, I'm sure this will make a great addition to your collection!
And oh: this book will not be available through book stores, Amazon, wherever. It's fan art and if you want it, you should get it here! 😉
SPECS:
- 100 colorful pages
- Hardcover, flat back
- It's big! 12x12" / 30x30cm
- Foreword by Steve Parke
PRICING:
US$85/€75.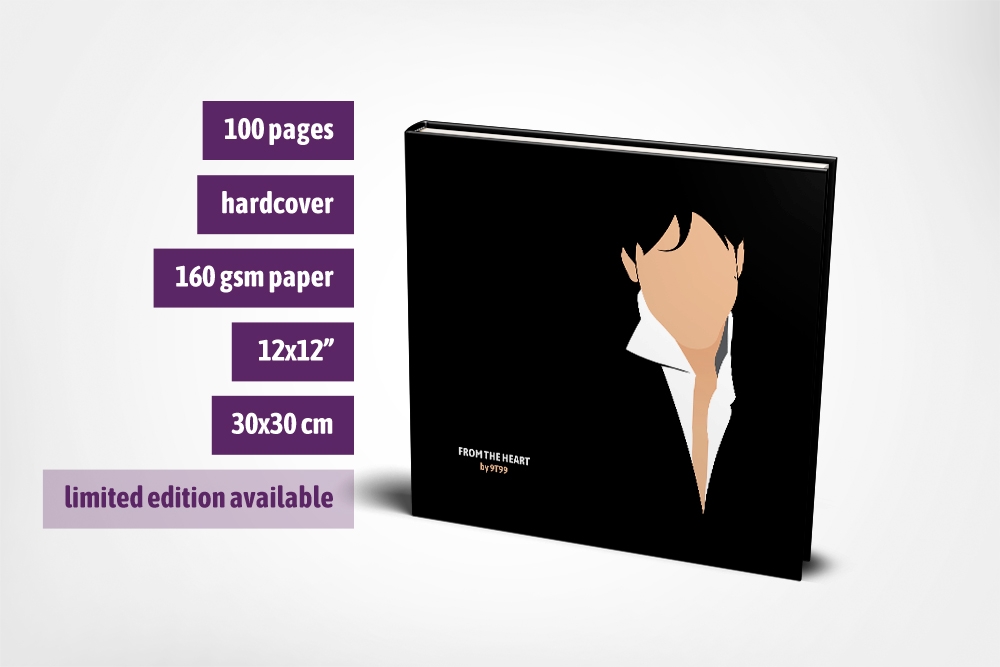 In the final months of 2016, before the first Celebration event was announced, myself and two friends decided we wanted to make the trip to Minneapolis and visit Paisley Park. Sadly one of my friends passed away before we could travel, which made the whole journey even more emotional.
While in Minneapolis, I was encouraged to take part in an online fan art contest. My work was personally selected by Steve Parke, which made me one of the five lucky winners.
Needless to say all this motivated me to continue making this kind of work. Up until today I've made enough pieces to fill a book - which is exactly what this is all about. A book with many new and previously unseen pieces.